Float down the River
Small Craft Portage
In 2016, MCTA transported over 1,700 kayaks and canoes up and down the Delaware River. Our free boat portage service is most helpful for those who use the river for boat recreation.
Our trailer is designed to haul up to 8 kayaks, canoes, and smaller inflatable craft, along with personal flotation devices, oars and paddles, coolers and camping equipment. If you have access to, and the ability to use the proper equipment, you can take a trip anywhere from 2 to 30 miles on the Delaware River.
The best part is that we take the chore of the relay vehicle. You park and load our bus and float back to your vehicle (or vice-versa if your coming from the Milford area).
Find Other Adventures
Safe and Secure
All of our bus operators are specially trained to drive this route and have at least a CDL Class B license. Our trailer equipment is checked regularly throughout the season to ensure safe operation. Each vehicle is provided the proper maintanence to meet all state standards.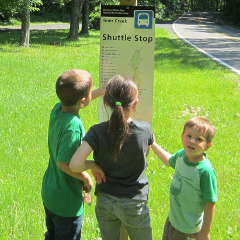 Navigating the River Runner Schedule is so easy, small children can do it.
Overnight River Trips
There are a limited number of overnight camping locations approved by the Delaware Water Gap National Recreation Area. You can use the River Runner for an extended overnight trip by parking at the Milford Beach location and completing your trip at Kittatinny Visitors Center (or vice versa) on a weekend service. Be sure to check the schedule and be off the river to catch the shuttle back to your vehicle in time. Check the National Park Service for important information about camping along the river.
Resources
Waterprooof river recreation mapsets are available for the Delaware River using this link to the Delaware River Basin Commission. Also, A Paddler's Guide to the Delaware River may be a useful book for those looking for the most information about the river. For an extended trip on the river, conisder participating in the 2017 Delaware River Sojurn.
Points North Note:
The trailer gets full, especially on gorgeous, sunny days. If you're coming from the north (e.g. Dingmans Ferry, Milford, Summit, NJ, upstate NY) and have a group of people AND water craft with you, consider doing this: drop your gear at your put-in point (with a few folks to watch it) and stage your relief vehicles at your take-out point. Use our shuttle to ferry the drivers back to your put-in point. Seats are always available on the shuttle for passengers, but limited space for boats on the trailer. We know everyone wants to ride the shuttle - that really is the highlight of the day, of course - but this movement will make your trip more enjoyable if you don't have to worry about having space on our trailer for your equipment.